How does it work?
Get a quote
Everything you need is right at your fingertips. Just provide us with your car details, and we'll swiftly calculate a price for you on our website.
Experience service like never before
Say goodbye to hassle and inconvenience. With us, you can easily schedule an appointment that fits your busy life. Choose a date and location that works best for you.
Sit back and relax
Our team of highly skilled technicians will handle all the work for you. We'll update you so you know when to expect us.
Unsure? Request a Quote
Nationwide mobile windscreen replacement
Windscreens are an essential safety feature of any vehicle, providing structural support and protecting passengers from external elements. Due to the delicate nature of car glass, an auto windscreen can easily become cracked or damaged, undermining its essential safety features and functionality.
The best action is to book a car glass replacement as soon as possible! A complete glass replacement is more affordable than you might think! Avoid driving with a cracked or damaged windscreen, as you are putting yourself and everyone on the road in unnecessary danger.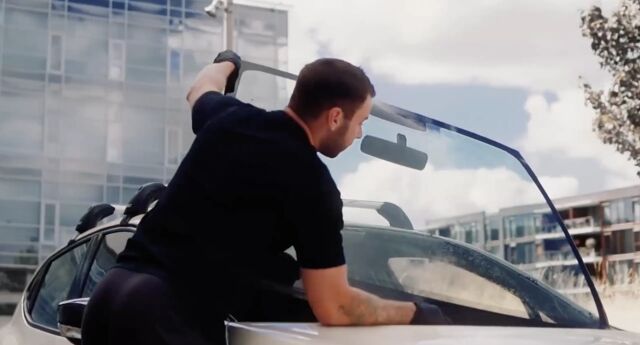 Our mobile replacement service is the perfect solution for busy people who need their windscreen replaced but can't afford to take time out of their day.
You can select any postcode in the United Kingdom as the free mobile replacement service appointment address. Shortly after you finalise your booking on our website, we will then assign a technician to come to you.
Reliable service, every mile of the way
If you find yourself with a chipped or damaged windscreen, it's crucial to remember that such damage not only hampers your visibility but can also pose significant safety risks. It's imperative to promptly replace a badly cracked windscreen, as once it reaches a certain severity, it's beyond repair.
Not all cars are identical at UK Car Glass, so we provide series-specific glass replacements. We have the equipment and the know-how to give you a fast and affordable solution, not only a cheap windscreen replacement option.
Our team of certified expert technicians understands the importance of safety on the road, which is why we offer a fast and efficient windscreen replacement service. It takes around 60-90 minutes to replace your car's windscreen.
Our experienced professionals will have you back on the road with a new windscreen installed. Your new windscreen will match the same technical and safety characteristics as the current vehicle glass. We use only the highest quality materials.
Your car's windscreen is evolving
Today's windscreens boast advanced features. For most newer models, your VIN helps us pinpoint the correct screen. Take a look at some of today's tech:
Heated windscreen
Rain Sensor (automatically activates your wipers)
Condensation sensor (automatically triggers your demister)
Humidity sensor
Heated wiper resting area
Lane assistance features
Heads-up display (projects your speedometer and other details onto the windscreen)
ADAS windscreen calibration
Today's new vehicles are manufactured with the latest technology, such as ADAS and Driver Assist. These technologies use a camera built into the windscreen and require calibration after a windscreen replacement.
Our technicians are highly skilled and well trained in windscreen replacements and camera calibration following a windscreen repair. We are ready to help you get back on the road with a new screen!
Only the Best in Glass
At UK Car Glass, we go above and beyond to provide unbeatable service matched only by the high-quality glass and materials used for our repairs and replacements.
That's why we only source our auto glass from trusted manufacturers who meet the highest industry standards. This ensures that the glass we install is durable and long-lasting and meets all safety regulations.
What's included in our service?
Calibration

Modern cars sometimes have cameras and sensors, we'll re-calibrate anything required in the fitting process.

Glass & Fitting Costs

All our prices are the total cost to you; it includes the glass and the fitting charge.

Glass Check

We triple check that you've ordered the right piece of glass for your car.

Workmanship Guarantee

We've been doing this a long time, we know what we're doing. That's why we guarantee our work for a year!

Cancellation

Changed your mind? Just let us know and we'll cancel your appointment.

Fantastic Customer Service

We won't stop until your windscreen has been fixed and you're back on the road.

Mobile service

Near or far, our mobile service ensures your windscreen's never far from expert care. Our technicians can come to you, at your convenience.

Disposal

We take all the mess and your old glass with us, once we're done, it's all gone!
Book with confidence
We are committed to delivering the highest service standards as a leading provider of windscreen replacement services in the UK. You receive a 2-year warranty on our workmanship and parts for all new glass installations with us.
Mobile service across the UK
Instant windscreen quote
Online appointment and booking
High-quality automotive glass
Access to 20 nationwide supplier warehouses
Parts check based on VIN (Vehicle Identification Number) data
24-hour support
Experiencing Windscreen troubles?
Our expert team is at your service!

📞 Give us a call directly at 0330 818 7198,
📱 Dive into a quick chat on WhatsApp!,
📧 Send us an Email, or
💬 Connect with us via our live chat.
We're dedicated to ensuring you get the support you desire, exactly how you want it!